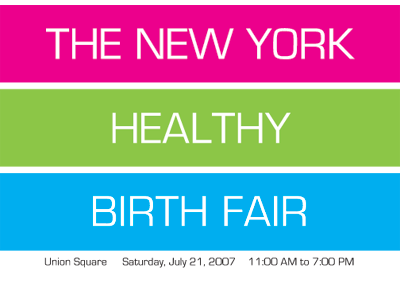 Tomorrow is supposed to be a beautiful day – the kind of day you want to spend outdoors, likely at one of NYC's beautiful parks. Might I propose one park in particular: Union Square Park. In addition to the bountiful farmer's market there each Saturday, tomorrow from 11a – 7p, for the first time ever, there will also be a healthy birth fair to raise awareness of maternity-care issues. Choices In Childbirth, along with The Grassroots Advocates Committee of CIMS and Friends of the Birth Center are hosting a fair to help improve maternity care for women in New York City. This is in light of the fact that the World Health Organization states that the rates for c-sections should not exceed 15%, however the 2004 rates in Manhattan on average were nearly double that.
Betsy Gotbaum, Executive Director of Childbirth Connection gave a report in December 2006 titled "Giving Birth in the Dark: City Hospitals Still Failing to Provide Legally Mandated Maternity Information:" in which she outlined the following,
"In 2004, the average cesarean rate in New York City was 28.6 percent, a 2 percent increase over 2003, when the rate was 26.6 percent. Many New York City hospitals now have a c-section rate over 30 percent."
The New York Healthy Birth Fair will launch a few important initiatives at tomorrow's event that aim to illuminate the truths about maternity care as well as reshape the landscape of birth in New York City. These projects include: 1. the New York City pilot of The Birth Survey; 2. the release of the 2nd edition of The New York Guide to a Healthy Birth; and 3. the public announcement of plans for an independent Manhattan-based Birth Center.
Swellbeing will be there tomorrow in support of these initiatives. Please come down and stop by to say hello. Whatever you do, get out and enjoy the beautiful weather!