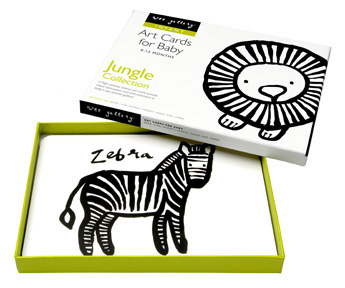 Newborn babies love to look at colors with high contrast, preferably black and white. In the age of litigation, there are warning labels all over baby products. Fortunately for babies, this offers them good, close range "art". In the early weeks and months I caught my daughter staring cross-eyed at the warning label printed on the inside of both her bassinet and her car seat. Welcome to America, I thought.
Wee gallery has taken the ball and run with black and white baby art. They have paired fresh design with baby's love for contrast and created a line of flash cards, wall graphics, wrapped canvases and more for your wee one.
We love these products all the more because they grow with baby, helping them to learn animal names and can be displayed as part of a mobile. We recommend placing mobiles over changing areas to provide a low-key distraction for diaper changes.