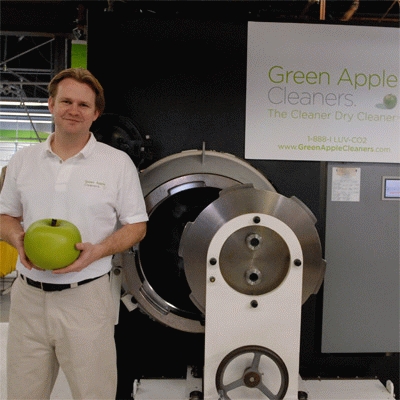 I am delighted to report that there is a new dry cleaner in the West Village (corner of W 12th and Greenwich) that uses CO2 to clean clothes, whereby removing the toxins that other dry cleaners leave on the clothes they process. I stopped by Green Apple Cleaners last night and happened to meet the CEO and founder, Dave Kistner. He is the father of four-year-old twins and got the idea for his business when his wife was pregnant and began reading about potentially harmful chemicals used in the dry cleaning process that stay on the clothes and emit gases.
Green Apple Cleaners is currently New York City's only CO2 dry cleaner and one of 32 in the country. Apparently, since carbon dioxide occurs naturally in our bodies and the environment, the cleaning process is non-toxic and environmentally friendly.
They take their commitment to greener living a couple steps further:
1. They use the most efficient biodiesel delivery trucks.
2. They give black reusable garment bags, so say goodbye to all that unnecessary plastic.
3. If you do elect to have your clothes wrapped in plastic, rest assured that it is the kind that boidegrades in two years. Dave suggested using the plastic for your bathroon trash first so it has an added utility.
Now grab your clothes and head on over – it might even be worth a cab ride.