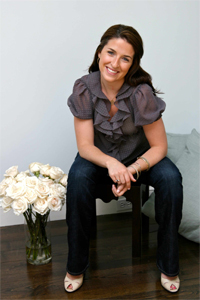 I met Hilary Waterous, founder of Pride & Joy many months ago at a local park. Pride & Joy is a children's personal shopping and gift buying service, designed to relieve parents of the stress and time consuming job of shopping for gifts, baby gear and clothing for their children.
"All parents, especially those raising their children in New York City, wish they had more free time," says Hilary Waterous, founder of Pride & Joy. "We combine our knowledge of the best children's boutiques in New York and our extensive experience caring and shopping for children, to ensure that busy parents are purchasing the best clothing and gifts, with none of the legwork."
During her years as a professional nanny in some of Manhattan's most high-profile and affluent homes, Waterous noticed many busy parents could not devote the time to finding the perfect gifts for the endless baby shower and birthday party invites. "I can't tell you how much time I save by using Pride & Joy to buy presents for all the birthday parties my kids attend," says Elissa Federman, a mother of two in Chelsea. "And I get the best compliments on the great gifts she picks out!"
By employing the services of Pride & Joy, parents eliminate the hassle of running from store to store between Little Maestros, naps and play dates. Pride & Joys incorporates the input of parents and children during a free consultation to assess their style and needs. Pride & Joy frequents a range of the best shops from uptown's Spring Flowers and Bonne Nuit to downtown's Yoya and Estella. "Pride & Joy always comes back with the clothing I described I wanted for my kids, only better," says Laura Connolly, a mother of three in Rye. "Not to mention they are from the cutest shops I never would have found on my own."
Pride & Joy is a children's personal shopping and gift buying service located in New York's Upper East Side. Pride & Joy's services include; children's clothing, gifts, baby gear consulting, off-season shopping, specialty items and party favors. Their services are available at hourly, day or retainer rates.